Introduction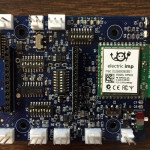 In this post, I want to share some of the thoughts that went into the design of an IMP002 board. The board is used for acquiring data in the oilfield.
Note: If you want to jump-start your IMP002 design, these boards can be made available, along with my expertise in Electric Imp hardware and firmware development. Don't hesitate to contact me at electricimp@systemsofmerritt.com.
As a prototype design, the board needed to have the ability to interface to a variety of sensors. Additionally, each of the IMP I/O lines needed to be accessible for monitoring purposes or interfacing to additional chips. Another requirement was that the board be able to interface to external systems via an RS-485 interface. An RS-232 interface was also included for additional communication flexibility.
A casual glance at the board below reveals 5 banks of dip switches and three DPDT switches. For prototyping, the switches were used to select and control a wide variety of options and features. An LED bank allowed at-a-glance monitoring of the power rails. Two 12 pin header strips allow access to all of the IMP I/O and power lines, and can easily allow attachment of a daughter card. Four mounting holes were added to allow easy attachment to common enclosures. External power can be attached via the PWR connector, or alternately, two battery holders can be mounted on the underside of the board.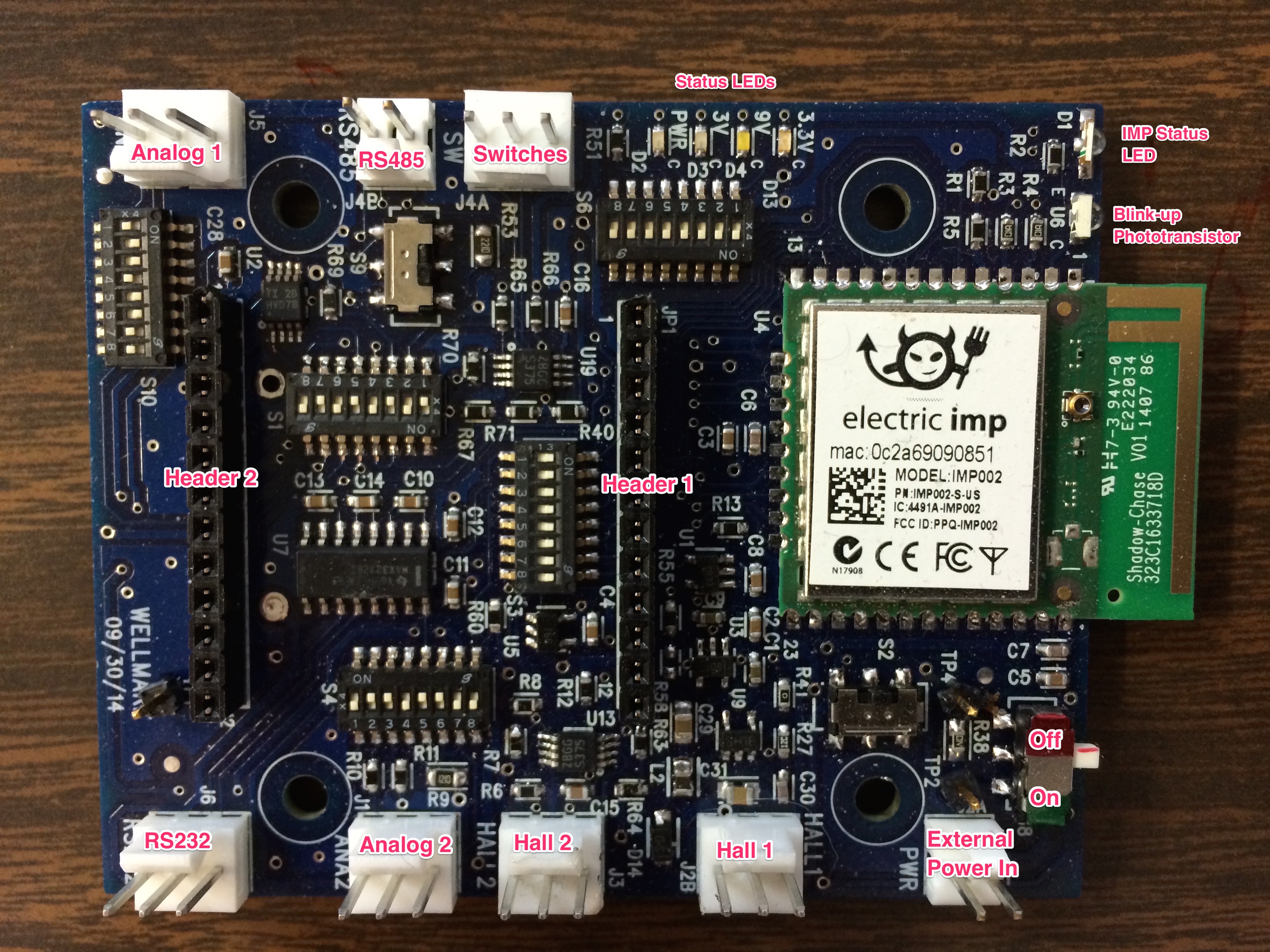 Description of I/O
The board features a variety of I/O interfaces.
Two Analog I/O Ports. Analog I/O is important for interfacing to sensors. Sensors generally use either voltage or current ranges to transmit data. For current, the 4-20mA range is commonly used. For voltage, different ranges might be used such as 0-10V, 0-5V or 1-5V. The dip switches for either of the two ports allow configuration for current or voltage range. Additionally, a scaling factor for voltage can be selected to best match the IMPs input voltage range of 0-3.3V.
Two digital switches. Switches can be accessed via one of the I/O connector. This is designed for mechanical on/off switches. Debouncing is not implemented in the hardware.
Two Hall switches. Hall switches are used in a variety of devices, such as flow meters or position indicators. Hall switches respond to the presence of magnetic fields.
RS-485. An RS-485 communication port is available for communicating with remote wired devices. Switch S9 can be used to easily flip the A/B differential I/O lines.
RS-232. An RS-232 communication port is also available for communicating with remote wired devices.
Two header strips give complete access to IMP I/O lines and board voltages
Power Distribution
The board is designed for low-power battery operation and features several options.
Batteries
Battery power can be brought to the board via the PWR input J2A in the lower right corner of the board image. Alternately, two battery holders can be soldered to the bottom of the board for power. The batteries must be Li-ion or similar battery technologies, and they can be configured in parallel or series with switch S2.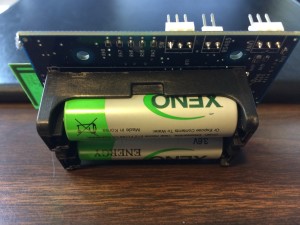 Power Rails
The board has several power rails. There is a dedicated 3.3V rail for the IMP002. Two additional rails are used to generate voltages for sensors, and can be enabled/disabled. Typically, the sensor voltages would be enabled when taking a reading, and then disabled in order to save power between readings.
Temperature Sensor
I always like to add a temperature sensor to my boards in order to monitor container temperature.
Expansion Headers
The images below show a daughter card attached to the two expansion headers. Access to each of the IMP I/O pins and power rails is available. This makes it easy to test new hardware concepts.
Board Construction
Systems of Merritt, Inc. has the capacity to build SMT prototype boards in-house. Below is a picture of the bare board, and an image of Frank building one of the boards using a hot-air rework system.
Container for IMP002 Board
Below is a simple container that can be used for prototyping. You can see the four mounting holes in the bottom of the container that allows easy mounting of the board. The plastic container can be easily fitted with cable grips or vents.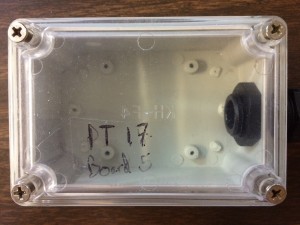 Testing
The electronics were tested outside in extreme weather conditions. Below is a picture from last winter showing several different containers for the boards. On some days temperatures would reach 0 degrees F. Low temperature was more of a function of battery technology rather than the electronics. In general Li-ion batteries don't work at extremely cold temperatures. Other battery technologies work just fine with the boards at low temperatures.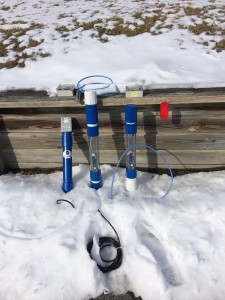 What can I do for you?
If you want to jump-start your IMP002 design, these boards can be made available, along with my expertise in Electric Imp hardware and firmware development. Don't hesitate to contact me at electricimp@systemsofmerritt.com.