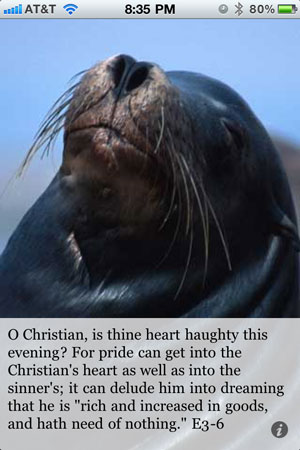 There are so many things that cause us to be proud, even as Christians – possessions, accomplishments, position in the company, abilities, etc. This recession has been difficult for me. When I'm out of work and can't find enough money to pay the bills, I get upset at God. I know I could make a good wage if only someone would hire me. In fact, I deserve to be hired!
On the other hand, when I'm doing well, my tendency is to think that it's all because of my own efforts and abilities. In fact, I deserve to do even better!
Humility before God and man is the better way. If I can acknowledge that all that I have, and all that I am are gifts from God, it will be easier to trust Him for my needs. If I can humble myself and acknowledge that I need God to save me from my sins, He will hear me.
Recently I've been reading the first six chapters of the book of Daniel in the Bible. Read the chapters if you will, and consider the deep humility and faith of Daniel. God reveals the king's dream to Daniel in chapter 2 and Daniel could have taken credit for it before the king, but instead he says "there is a God in heaven who reveals mysteries." As a result the king responds to the interpretation by praising God, saying: "Truly, your God is God of gods, and Lord of kings…"
On the other hand, in chapter 4, we find that the king is humiliated for seven years because he didn't give credit to God. When the king's mind was restored he lifted his eyes toward heaven and "blessed the Most High, and praised and honored him who lives forever."
Dear Lord, Help me to acknowledge my need for you in everything I do. I humbly ask you for salvation through Jesus Chirst, who humbled himself for me on the cross and died for my sins. Amen.
I hope you have been blessed by this quote and the accompanying image taken from the Spurgeon Daily Quotes iPhone app. Please visit our blog, twitter, or Facebook page regularly and pass these posts on to friends that need an encouraging word.