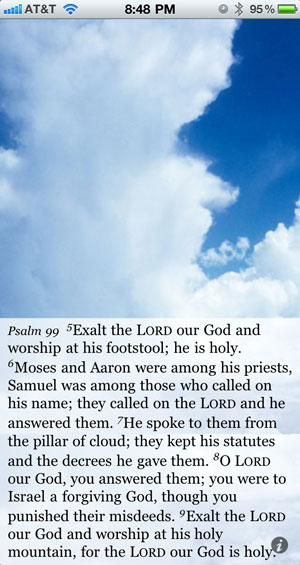 In this wonderfully uplifting Psalm, we find our two themes of praise and remembrance again. It seems that when I get focused on myself and my problems, that I forget to praise God and remember his blessings.

We also find in verse 8 the remarkable thought that God is a forgiving God, though he punished Israel's misdeeds. If a parent doesn't punish and correct their child, they don't truly love the child. The same is true with God. Because he cares for us, he chastens us, but there is also forgiveness and mercy. At this, the Psalmist proclaims in verse 9: "Exalt the Lord our God!"

The cross of Christ goes even further. Jesus bore our sins and received our punishment. He received the chastisement and wrath of God in our place. Even if we received no other blessing from God, we should remember this. And for this blessing of forgiveness and salvation, we need to "Exalt the Lord our God!"

Dear Lord, If I have never known your forgiveness, and if I have never exalted you, help me to begin now. I receive Jesus into my heart. Let me always remember this moment, and exalt you this day and forever. Amen.
---
I hope you have been blessed by Psalm 99 and the accompanying image taken from the 
Psalm Daily Quotes NIV
iPhone app. Please visit our 
blog
, 
twitter
, or  
Facebook
page regularly and pass these posts on to friends that need an encouraging word.

EXTRA!
Below is an extra treat! The Sons of Korah have put Psalm 99 to music. Listen to a sample below and purchase your own copy at the iTunes store by clicking on the button.