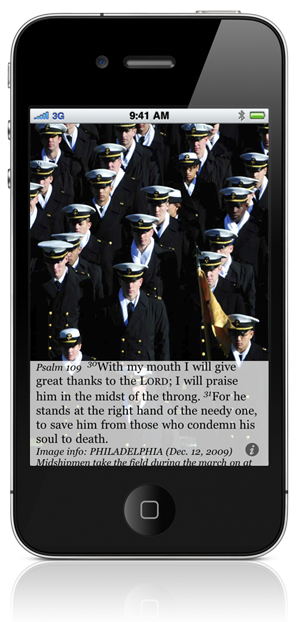 Wouldn't it make you proud to see a procession of young men and women who are all dedicated to the service of their country.  Each uniform is perfectly pressed and worn with pride. Row upon row, they march in unison. Each step is directed by the leader's commands. For love and defense of country, some may even be called upon to make the ultimate sacrifice.
So marches the Church, down through the ages. Each Christian in the procession is clothed with the perfect robe of salvation, given by our Savior, Jesus. He has saved us from condemnation. He was at our right hand when we needed help. We can only praise and give thanks to the Lord in the midst of the great throng of believers.
Dear Lord, grant me your salvation, that I may praise you each day, even in the midst of the throng! Amen.
---
Psalm 109:30 With my mouth I will give great thanks to the LORD; I will praise him in the midst of the throng. 31 For he stands at the right hand of the needy one, to save him from those who condemn his soul to death.
Image info: PHILADELPHIA (Dec. 12, 2009) Midshipmen take the field during the march on at the 110th Army-Navy college football game at Lincoln Financial Field in Philadelphia. (U.S. Navy photo by Damon J. Moritz/Released)
---
I hope you have been blessed by Psalm 109:30 and the accompanying image taken from the Navy Psalm Daily Quotes ESV iPhone app. Please visit our blog, twitter, or Facebook page regularly and pass these posts on to friends that need an encouraging word.