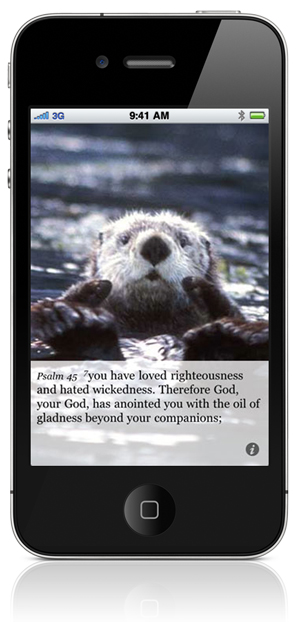 Don't you wish you could be as happy and carefree as the sea otter in this picture? God seems to have given these playful creatures an energy and happiness above their fellow creatures. You don't normally associate happiness with a bear, elk, tiger or walrus, do you?

So it is with us. Some people just seem to be happier. Could it be that people who love righteousness might generally be happier than those who don't? The Psalmist indicates that the righteous person is favored with gladness from God.

In this fallen world, it is amazing that happiness exists at all. Natural disasters, wars, strife, accidents, and so many other events in our lives seem designed to rob us of any happiness at all. The pursuit of happiness seems a fruitless exercise, sadness a certain curse. Is there any hope?

God has "anointed you with the oil of gladness," says the Psalmist. Deep happiness, gladness, joy, comes from God. God is the one who can turn back the fallenness and give us hope. This is something that we cannot do on our own.

Consider the life of Jesus. Jesus broke though the fallenness of this world with his healings, teachings and miracles, and most important, his death and resurrection. The Holy Spirit continues the work of redemption today in the lives of believers. Seek the living God today and ask Jesus for the joy and happiness that comes from forgiveness of your sins. With the help of the Holy Spirit you can "love righteousness" too.

Dear Lord, Save me from this fallen world. Help me to find true happiness, no matter what comes my way. Amen.
---
I hope you have been blessed by Psalm 45 and the accompanying image taken from the Psalm Daily Quotes ESV iPhone app. Please visit our blog, twitter, or Facebook page regularly and pass these posts on to friends that need an encouraging word.