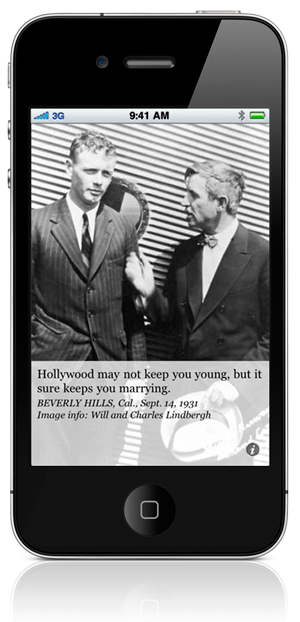 According to this Will Rogers quote, things sure haven't changed in Hollywood since 1931, have they? I don't even have to mention names – all you have to do is look at the tabloid covers at the grocery store to find out about Hollywood marriages.

The tabloids feature all the dirt on breakups, and all the gossip on matchups. Then there are rumors on things that might happen and who was seen with who last week.

One thing that is different from 1931 is Botox. Actually, today they can keep you looking young! The  women seem to stay looking young longer than the men, however.

Interestingly, Will Rogers marriage was one of the rare Hollywood marriages that did last. For all his travels, movies and Hollywood friends, Will Rogers was faithful to his beloved wife Betty, with never a hint of scandal.
---
Image Information: Will Rogers was a strong proponent of commercial aviation. He was friends with many famous aviators including Charles Lindbergh, seen in the picture above.
Will Rogers is a man worth remembering, and quoting. His wit, humor and insight into life will amaze and astonish you. His life will inspire you. Watch for new blog posts from my Will Rogers quotes collection.
I hope you have enjoyed this quote from Will Rogers and the accompanying image taken from the Will Rogers Daily Quotes iPhone app. Please visit our blog, twitter, or Facebook page regularly and pass these posts on to friends that might enjoy a bit of wisdom from Will Rogers.