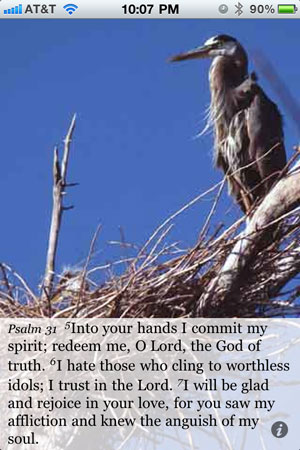 The first phrase of Psalm 31 is quoted by Jesus on the cross. In fact "Into your hands I commit my spirit," are the last words Jesus spoke before he died. They were uttered with his last breath. These words are the final act of faith as he leaves his earthly life.

When I was very young, I had complete confidence that my parents would take care of all my needs. They fed me, clothed me, protected me and loved me. If I was sick, they watched over me.

For some reason, it seems difficult to have such complete confidence in God. Probably because God isn't flesh and blood like my parents. I can't touch Him or see Him.

But I have God's word, the Bible. I know that Jesus was flesh and blood. I know about Jesus life, death and resurrection. I know of his love for sinners, like me. I also know of his forgiveness and redemption of sinners. The Psalmist says God knows about my affliction and anguish of my soul.

Can I commit my spirit into God's hands? Yes! Can I have complete confidence that God will take care of all my needs? Confidence will grow as your faith grows. Your faith will grow as you draw closer to God by reading the Bible, seek fellowship with other believers and listen to the preaching of God's Word.

Dear Lord, Help my faith to grow so that when the end comes I can say, "Into your hands I commit my spirit. Amen.
---
I hope you have been blessed by Psalm 31 and the accompanying image taken from the Psalm Daily Quotes NIV iPhone app. Please visit our blog, twitter, or  Facebook page regularly and pass these posts on to friends that need an encouraging word.