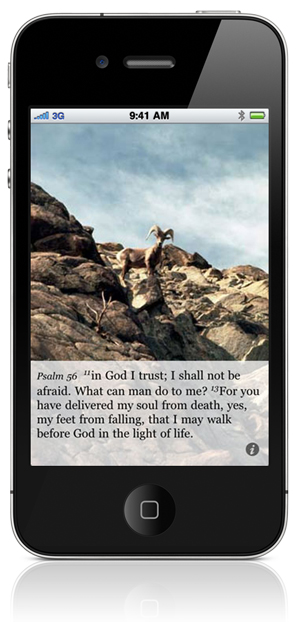 When I am in a high place, looking over the edge, I am seized with fear. I've been in tall buildings, on the edge of the Grand Canyon, the Leaning Tower of Pisa, and many other high places. Some people are completely paralyzed with a fear of high places, and others, like steel workers, can work on beams 20 stories off the ground. I'm somewhere in between.

As I approach the edge, the fear grows, but I have to remind myself that I can put my trust in the glass window, or the railing to keep me from falling.

The Psalmist says that with trust in God, he will not be afraid. I think this takes time as we deal with our fears. We have to remind ourselves that that we can trust God when it looks like we are coming to the edge.

Some day perhaps we can be as confident at the mountain goat in the image. They live and thrive in the high places. They play and skip and jump from ledge to ledge.

Dear Lord, Let my trust in you grow day by day, that I may not be afraid of what comes my way. Please keep my feet from falling that I may walk before you, even skip and jump in the "light of life." Amen.
---
I hope you have been blessed by Psalm 56 and the accompanying image taken from the 
Psalm Daily Quotes ESV
iPhone app. Please visit our 
blog
, 
twitter
, or 
Facebook
page regularly and pass these posts on to friends that need an encouraging word.