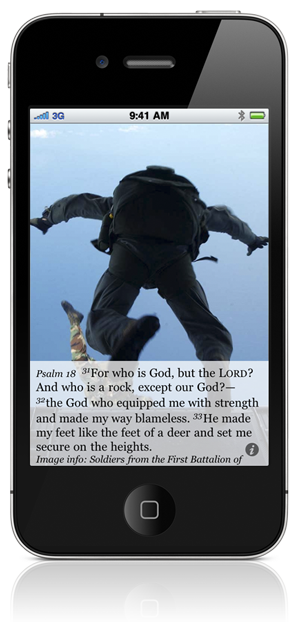 Everyday Act of Valor
I mentioned in an earlier post that I had the honor of meeting a former US Navy SEAL, while waiting for a flight at DFW recently. As we looked through the images in the iPhone App, we came across the one pictured here. He showed me a special emblem on his watch band and told me he was a jump master.
All SEALs know how to handle a parachute, but a jump master has even more jumps and skills when it comes to jumping out of airplanes or helicopters. But the jump master doesn't just keep the skill to himself. All SEALs are tasked with conveying their special skill to other members of their team.
Watching the movie, "Act of Valor", I began to consider that it's not just a single act of valor that makes these Navy SEALs who they are. It's hundreds of acts of valor. These men risk their lives with each dive, jump and mission. They do it for their country, their comrades in arms, their families, and for each of us. For this, we should thank God each day.
I'll never jump out of an airplane, but I want to know that God has "set me secure on the heights," as it says in Psalm 18:33. I need the confidence of a jump master. I need to know that God is my rock, and he has equipped me with strength. The confidence won't come through one "act of faith." With God's help, will come through hundreds of individual acts of faith.
Dear Lord, Help me to acknowledge you in all things, even in the little acts of faith that may seem insignificant. Through the gospels, you performed many miracles that changed peoples lives. It all led to Jesus' final ultimate act of valor on the cross for all believers. Let it change my life. Amen.
Entire Quote & Image Information
Psalm 18:31 For who is God, but the LORD? And who is a rock, except our God?— 32 the God who equipped me with strength and made my way blameless. 33 He made my feet like the feet of a deer and set me secure on the heights.
Image info: Soldiers from the First Battalion of First Special Operations Airborne unit on Torii Station, Okinawa, Japan, perform High Altitude, Low Opening (HALO) jumps out of a CH-46E assigned to Marine Medium Helicopter Squadron Two Six Two (HMM-262). HMM-262 is assigned to Marine Corps Air Station Futenma in Okinawa, Japan. – Official US Navy photo by PH3 (NAC) Kaitlyn Rae Vargo.
iPhone App
I hope you have been blessed by Psalm 18 and the accompanying image taken from the Navy Psalm Daily Quotes ESV iPhone app. Please visit our blog, twitter, or Facebook page regularly and pass these posts on to friends that need an encouraging word.