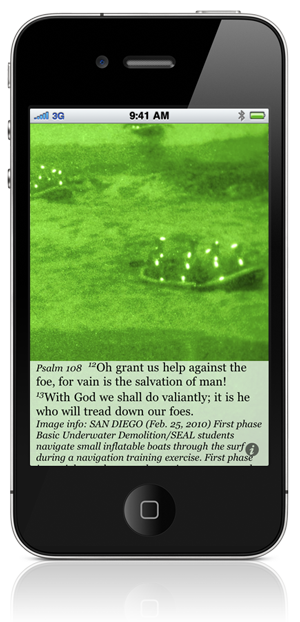 Devotional
I had the honor of meeting a former Navy SEAL while waiting for a flight at DFW. He was 70 years old and looked every bit as fit as men half his age. Last year he was invited back to temporary active duty to assist training today's Navy SEAL candidates, and compare it with his experience from years ago. The attrition rate for SEAL training has been and is still over 70% for First Phase training. It's still the toughest military training in the world!
As we looked at pictures from the Navy Psalm Daily Quotes ESV iPhone app, such as the one in this blog post, he could tell me exactly what was going on when we came to pictures of SEAL training.
One thing Navy SEALs have to learn is teamwork. Nobody makes it through training by relying only on themselves. You are responsible for your teammates, and they are responsible for you. For SEALs, it can be a matter of life and death.
This thought brings us to Psalm 108:12. While our natural tendency is to do things on our own, we must understand that we cannot save ourselves. We have to trust God for salvation, and with God, "we shall do valiantly."
Dear Lord, Help me to put my trust in you. I can do nothing without your help. Amen.
---
Entire Quote and Image Information
Psalm 108:12 Oh grant us help against the foe, for vain is the salvation of man! 13 With God we shall do valiantly; it is he who will tread down our foes.
Image info: SAN DIEGO (Feb. 25, 2010) First phase Basic Underwater Demolition/SEAL students navigate small inflatable boats through the surf during a navigation training exercise. First phase is an eight-week course that trains, prepares and selects SEAL candidates based on physical conditioning; water competency; mental tenacity and teamwork. (U.S. Navy photo by Mass Communication Specialist 2nd Class Shauntae Hinkle-Lymas/Released)
---
I hope you have been blessed by Psalm 108:12 and the accompanying image taken from the Navy Psalm Daily Quotes ESV iPhone app. Please visit our blog, twitter, or Facebook page regularly and pass these posts on to friends that need an encouraging word.