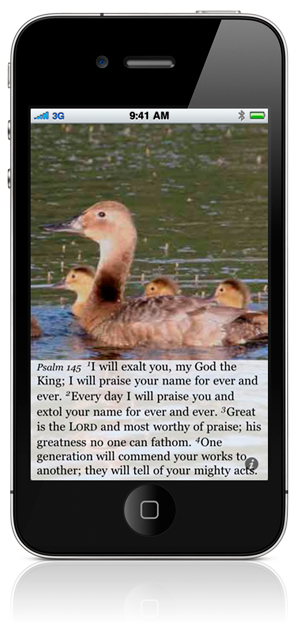 Psalm 145 is a praise psalm. God will be praised for ever and ever by His people. No matter how dark the times, or how good the times, God will be praised.

Praise is a response to something great. When an actor gives a wonderful performance, the audience claps, and if it is truly exceptional, a standing ovation. So it goes with sports, Nobel Prize awards, heroic acts, great sacrifice, overcoming impossible obstacles, etc. We are moved to praise the person or team that accomplished the great act. Sometimes a movie is made to celebrate the achievement.

As great as the human accomplishments above are, they are still human. The psalmist says that we cannot fathom the greatness of God. It is beyond our comprehension. Shouldn't we respond to such greatness with praise? Shouldn't we praise God every day?

If we praise God often, our children will notice because they are close to us every day. The ducklings in the picture stick close to their mother and imitate what she does. Even so, God's greatness is passed down through the generations.

Just what is so great about God's greatness? Obviously there are the wonders of creation. There are physical phenomena so complex that scientists spend lifetimes focused on just one facet of physics, biology or chemistry.

Even more amazing is God's grace, love and forgiveness. What Jesus did on the cross, for me, is worthy of praise, because it is a debt that cannot be repaid. My sins were forgiven and I received grace, amazing grace. Words cannot even express praise to God for such a precious gift.

Dear Lord, Let me understand your greatness. Let me understand your grace. A grace so great that my sins can be forgiven. For such greatness, "I will praise you name for ever and ever." Amen.
---
I hope you have been blessed by Psalm 145 and the accompanying image taken from the Psalm Daily Quotes NIV iPhone app. Please visit our blog, twitter, or  Facebook page regularly and pass these posts on to friends that need an encouraging word.