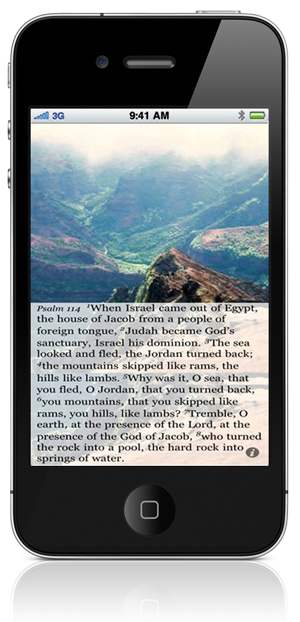 I was at a conference earlier this year near Rochester, NY, and during one of the morning sessions we felt the room start moving. It took a minute for it to register, but we had just felt the effects of an earthquake. There was no damage, but the moving and rolling feelings were unmistakable and quite startling.

In Psalm 114, the Psalmist recounts the parting of the Red Sea and Jordan river for the Israelites. These were real live physical events. Don't you love the wonderful imagery used? "The mountains skipped like rams, the hills like lambs."

Skeptics have come along and proposed various physical phenomenon that would account for these "miracles." Let's say we give them their non-miracle explanation for a moment. In that case they will then have to explain how their "non-miracle" event miraculously happened at precisely the time it did and that the duration was precisely the amount of time required to accomplish its purpose.

The Psalmist wants us to understand that the Great Creator can do as he wills with his creation. He can stop the flow of water, make the earth tremble, or turn the "hard rock into springs of water."

If the earth trembles at the presence of the Lord, we should too. If God can move mountains, He can move us too. For these remembrances we should be filled with praise that God accomplishes His purpose for His people.

Dear Lord, When the earth moves, the wind blows, the rain falls or snow blankets the ground, let my mind be drawn to the Great Creator, our Savior and our God. Amen.

Look below for a musical treat! The Sons of Korah have put Psalm 114 to music. Listen and be blessed!
---
I hope you have been blessed by Psalm 114 and the accompanying image taken from the 
Psalm Daily Quotes NIV
iPhone app. Please visit our 
blog
, 
twitter
, or  
Facebook
page regularly and pass these posts on to friends that need an encouraging word.

EXTRA!
Below is an extra treat! The Sons of Korah have put Psalm 114 to music. Listen to a sample below and purchase your own copy at the iTunes store by clicking on the button.