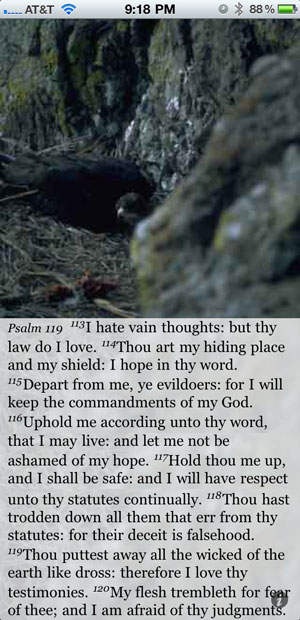 When my children were little, they would come to me for protection and help. "Daddy, he wouldn't share his crayons, and he hit me!" I would comfort my child by holding them in my arms and try to correct the crayon sharing problem. When all was resolved, they would climb down and go about their business.
Just as my children knew where their "hiding place" was, God provides us with a hiding place where we can go for comfort. Just as the bird in the picture has a safe place among the rocks, God provides us a safe place when we need protection.
As I share these Psalms with you day-by-day, I have noticed that God's word is always a necessary part of the Psalmist's message. In this Psalm, in order to enter God's hiding place, we must hope in his word.
Dear Lord, help us to know your word better, that we may find a hiding place and that we may be upheld according to your word. Amen
I hope you have been blessed by Psalm 119 and the accompanying image taken from the Psalm Daily Quotes KJV iPhone app. Please visit our blog, twitter, or Facebook page regularly and pass these posts on to friends that need an encouraging word.