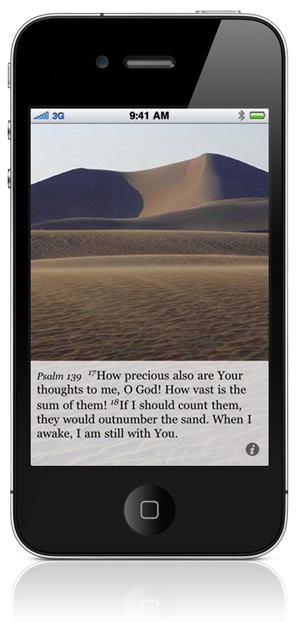 Even before my oldest daughter was born, I was thinking about her. So was my wife. After she was born, we spent a lot of time thinking about her, praying for her and caring for her. That's a lot of thoughts!

If I could add up all those thoughts, I don't think I could come close to the number represented by the grains of sand in the image on the left.

The Psalmist give us an idea of the vastness of God's precious thoughts toward us. Before we were even born he was thinking of us. From the day we were born, and every day and night – his thoughts are on his children.

Dear Lord, help me to understand even a small part of your thoughts and care for me, especially in the work of Jesus – his life, his cross, his death and his resurrection!
---
I hope you have been blessed by Psalm 139 and the accompanying image taken from the 
Psalm Daily Quotes NASB
iPhone app. Please visit our 
blog
, 
twitter
, or  
Facebook
page regularly and pass these posts on to friends that need an encouraging word.

EXTRA!
Below is an extra treat! The Sons of Korah have put Psalm 139 to music. Listen to a sample below and purchase your own copy at the iTunes store by clicking on the button.