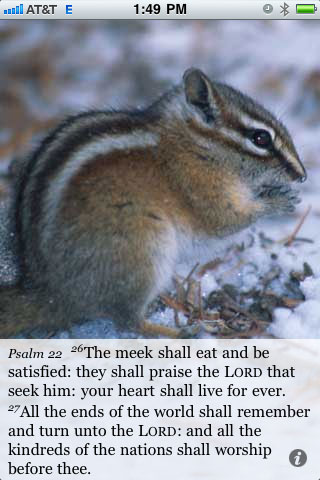 I just returned from a quick trip to western Pennsylvania. While trekking through some wooded areas with a friend just above the Allegheny River I noticed quite a number of chipmunks as they would dart into the underbrush. It's a beautiful area of the country and these humble creatures seem to survive and thrive in the mountain woodlands.
Matching the image of a cute chipmunk with this Psalm seemed appropriate. Humble and meek,  the Lord takes care of His creatures, just as He takes care of us.
Satisfied with Gods provision, we should praise God and continue to seek Him in humility. We should also thank God for His work in other lands as "all the kindred of the nations shall worship" God.
I hope you have been blessed by Psalm 22 and the accompanying image taken from the Psalm Daily Quotes KJV iPhone app. Please visit our blog, twitter, or Facebook page regularly and pass these posts on to friends that need an encouraging word.