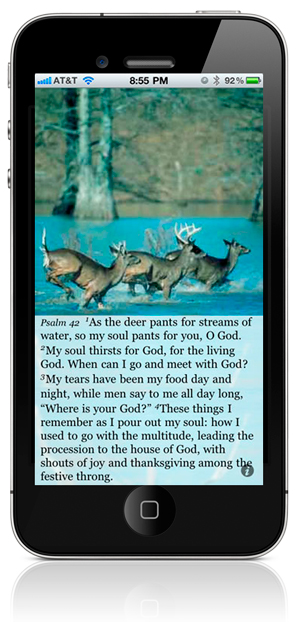 There is perhaps no more beautiful expression of a desire to seek God than "As the deer pants for streams of water, so my soul pants for you, O God." Once the image is in your mind, you can never forget it. Musicians have crafted it into their melodies (see Sons of Korah below) so we can sing it in the congregation or hum it to ourselves.

Yet the Psalmist, just like all of us, struggles with the question "Where is your God?" We pour out our hearts with tears as doubts creep in and our desire to seek God grows chill. What can I do?

I can remember happier days. Days when my heart was on fire, days when worship excited my soul. Those memories of God's blessings can help carry us through the times of doubt, but why do we have to go through the valleys? Perhaps, because during time in the valley, my faith can grow even stronger. As my soul begins to thirst after better days I can "pant for streams of water." I can be drawn toward Christ, the living water (John 4:10).

Dear Lord, Let me thirst for you. Let the dry times increase my desire for you, not diminish it. Let me remember past blessings and praise you for all you have done for me. Let me drink of the living water. Amen.
---
I hope you have been blessed by Psalm 42 and the accompanying image taken from the Psalm Daily Quotes NIV iPhone app. Please visit our blog, twitter, or  Facebook page regularly and pass these posts on to friends that need an encouraging word.

EXTRA!
Below is an extra treat! The Sons of Korah have put Psalm 42 to music. Listen to a sample below and purchase your own copy at the iTunes store by clicking on the button.