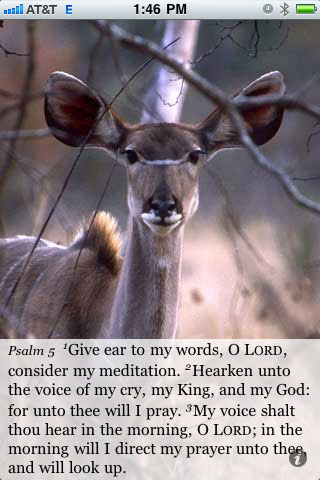 A friend stopped by last night and was telling us how she had used a "blue" bottle to feed milk to baby kittens. It took us a while to figure out that she was saying "glue" bottle. Communication problems seem to happen in our house all the time. Sometimes the results can be quite humorous as with "no man is an island" turns into "no mayonnaise in Ireland."
With God, there are no translation or communication problems when it comes to our prayers. The God who fashioned our very being and bodies understands our needs as we express them in prayer.
I thought this image fit well with the verse. Ears that large have got to be very sensitive to even the smallest noise or the most distant sound. How sensitive do we think God's ears are? Do we have the faith to "direct our prayer unto thee and will look up?" Lord, help us to have the faith to believe that you hear us.
I hope you have been blessed by Psalm 5 and the accompanying image taken from the Psalm Daily Quotes KJV iPhone app. Please visit our blog, twitter, or Facebook page regularly and pass these posts on to friends that need an encouraging word.