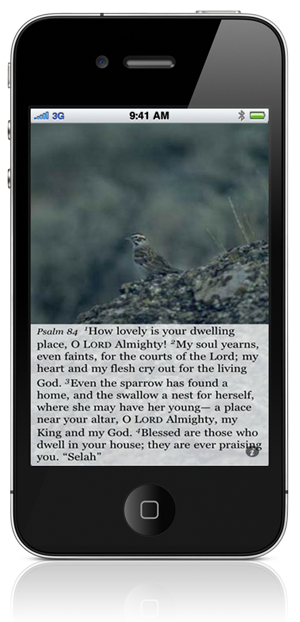 The Psalmist must have found great comfort in God's house. He delighted being there among others who were offering their praises up to the Lord.

The passion of the Psalmist for God's house and presence is truly amazing. His flesh cries out for the living God! He desires a place near the alter. He wants to be among those who are praising God, who enjoy God's blessing.

Such passion for God shames me, but it also inspires me. I am ashamed because I don't desire God's house and people as I should. I am inspired because I want to do better, I need to do better.

Dear Lord, Please give me a renewed passion for your church and your people. Let the gathering of the congregation be my desire and my joy. Amen.
---
I hope you have been blessed by Psalm 84 and the accompanying image taken from the Psalm Daily Quotes NIV iPhone app. Please visit our blog, twitter, or  Facebook page regularly and pass these posts on to friends that need an encouraging word.

EXTRA!
Below is an extra treat! The Sons of Korah have put Psalm 84 to music. Listen to a sample below and purchase your own copy at the iTunes store by clicking on the button.