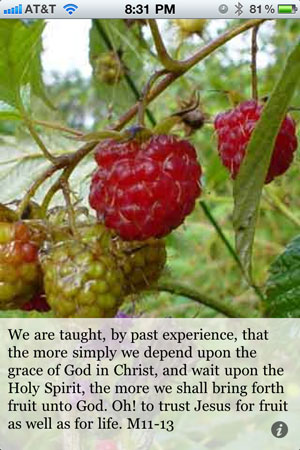 These past years have been a financial struggle for us, as it has for many of you. Financial struggles, however, seem to teach us how to depend on God to meet our needs.
One of the things we did was to drop the cable TV expense. Interestingly, my wife and I, and three kids don't seem to miss it much. We are finding more time to play games, read and be with friends. Let me mention here guys, that we aren't sports fans, so the withdrawal wasn't as painful as it could have been.
As we learn to depend on God for our needs, many times there are side blessings and benefits. A little humility or sacrifice isn't a bad thing in terms of growing in Christ.
Dear Lord, help us to understand that your grace is sufficient for all our needs. Let deeper dependence on you bring forth fruit that will glorify you. Amen.
Charles H. Spurgeon, 1834-1892, was the foremost preacher of the 19th century. His many sermons, devotions, and books bring a unique, inspiring, and spiritual significance to biblical truth. What is most surprising is that Spurgeon had no formal theological training. Even so, he became widely recognized for his insight and prowess in biblical teaching.
I hope you have been blessed by this quote and the accompanying image taken from the Spurgeon Daily Quotes iPhone app. Please visit our blog, twitter, or Facebook page regularly and pass these posts on to friends that need an encouraging word.