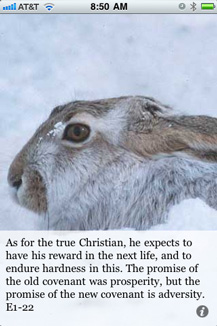 When asked about the first thing they want to do when they get to heaven, most people say something like "I want to see my mother and father," or "I want to say hi to Uncle Bushrod – he was my favorite uncle."
Those are nice thoughts, and I'm sure we will have fellowship with saints who have gone before us, however the reward of heaven is to see Jesus – to thank and praise him for his salvation.
If you look at the image closely, you will see that the rabbit is buried in snow. Winter is a hard time for many animals, but it can be endured because of the promise of spring.
Adversity comes to the christian in many ways. We can endure it because of the promise of heaven. The harsher the winter, the sweeter the spring, and likewise the greater the adversity, the sweeter the promise of heaven.
I hope you have been blessed by this quote and the accompanying image taken from the Spurgeon Daily Quotes iPhone app. Please visit our blog, twitter, or Facebook page regularly and pass these posts on to friends that need an encouraging word.