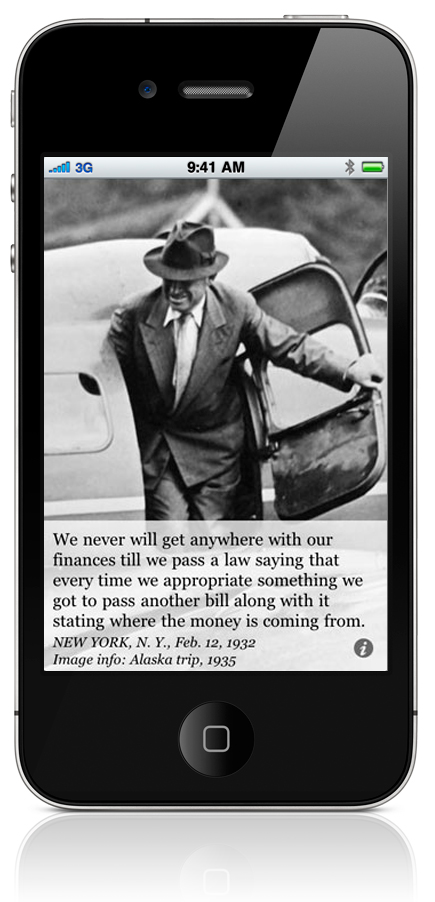 Will Rogers is a genius! In February of 1932 he issued this quote as an observation and warning to Congress. It's so simple: don't spend money, until you know where it's coming from. Even a child can figure out that you can't spend money you don't have.

Sad thing is, Congress never got the message. With this blog post, I'll try and send Will's message again. Here goes:

Hey Congress! "Every time we appropriate something we got to pass another bill along with it stating where the money is coming from."

Up until I just resent Will's message, you would have thought that the brilliant money men in the current administration and Congress were drunken sailors throwing money at anything and everything. They call it "stimulus" spending, but the only thing that got stimulated was the federal printing presses that churn out money.

Well, the former Chairman of the Federal Reserve said the stimulus didn't help the economy, and the current Chairman said he doesn't know what's going on or how to fix it. The (formerly tax avoiding) Treasury Secretary is getting ready to jump ship, and the VP said that "just because the stimulus was a monumental failure, doesn't mean it's not working." The President says we need to get used to a "new normal."

It's said that a fool is often parted from his money, but in this case, the fools parted us from OUR money! I hope we are able to some day soon send honest folks to Washington with some good old Will Rogers' common sense before it's too late.
---
This picture of Will Rogers entering the seaplane piloted by famous aviator Wiley Post is among the last photographs taken of Rogers before the fatal crash in Alaska on August 15, 1935.
The image was taken directly from pictures at the Will Rogers Memorial Museum archive. I apologize for the quality of the image, but this is exactly what the 1920s photo looked like when I scanned it. In the hundreds of images contained in this iPhone application, I wanted to share as many different Will Rogers photos as possible from as wide a variety of times and situations – movies, cowboy, vaudeville, with famous people, and family scenes.
Will Rogers is a man worth remembering, and quoting. His wit, humor and insight into life will amaze and astonish you. His life will inspire you. Watch for new blog posts from my Will Rogers quotes collection.
I hope you have enjoyed this quote from Will Rogers and the accompanying image taken from the Will Rogers Daily Quotes iPhone app. Please visit our blog, twitter, or Facebook page regularly and pass these posts on to friends that might enjoy a bit of wisdom from Will Rogers.