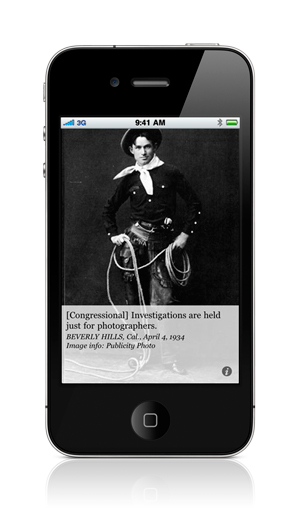 At all these fancy investigations, the action seems to be in the photographers' pit. The noise from shutters clicking is almost deafening.

Thousands of pictures are taken of every move made by whoever is testifying. The perfect shot is one that captures an absurd grimace or a finger brushing by the nose. This requires the most intense concentration and skill by the photographer.

Contrast that with the mind-numbing and boring pace of the hearings,  and the tedious requests of useless minutia from the witnesses. Senator So-and-so, I would like to read the following 150 pages of office memos into the record. On page 52 the witness sneezes and the resulting image makes it on the front page with the caption: "Witness startled by new revelations."

After the hearings, all is forgotten and documents are filed, never to be seen again. The photographers however, did their jobs, and their images are what everyone remembers.

Now isn't it interesting that Will Rogers made this observation in 1934? Not much has changed, except with digital photography, we can get more pictures, more faster!
---
Image Information: This picture is an early publicity shot of Will Rogers.
Will Rogers is a man worth remembering, and quoting. His wit, humor and insight into life will amaze and astonish you. His life will inspire you. Watch for new blog posts from my Will Rogers quotes collection.
I hope you have enjoyed this quote from Will Rogers and the accompanying image taken from the Will Rogers Daily Quotes iPhone app. Please visit our blog, twitter, or Facebook page regularly and pass these posts on to friends that might enjoy a bit of wisdom from Will Rogers.