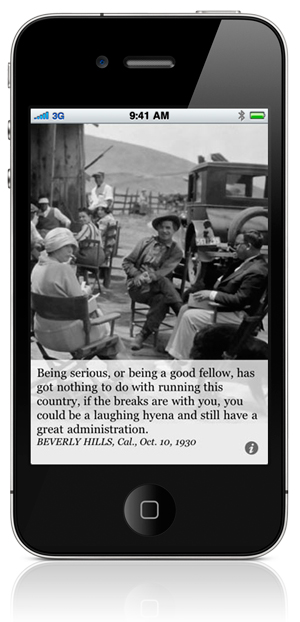 Well, the hyenas are laughing these days according to this Will Rogers quote! The current  administration must be full of them. There's just no other way to explain the mess we're in.

The problem is that the idea of this being a "good administration" as Will Rogers says seems to be nothing more than an illusion. When you pull back the curtain, or even casually look into the facts we find that the Washington rhetoric doesn't match reality.

The spin they try to put on their policies provides more material than a good humorist can possibly keep up with. Take this quote from our Vice President: "Just because the Recovery Act was a monumental failure, does not mean that it is not working." Or how about when the former Speaker of the House said that "We need to pass this bill so we can find out what's in it."

We can only hope that the laughing hyenas in this "great administration" don't cause more damage before the next election. If the "breaks" are with us, perhaps the next administration will bring back some good old common sense to government and the laughing hyenas can go laugh somewhere else.
---
Image Information Will Rogers is pictured on a movie set. Over his career, Will Rogers starred in 48 silent films and 21 movies with sound (talkies). At the time of his death in 1935 he was one of the top box office draws, second only to a very young Shirley Temple.
The image was taken directly from pictures at the Will Rogers Memorial Museum archive. I apologize for the quality of the image, but this is exactly what the 1920s photo looked like when I scanned it. In the hundreds of images contained in this iPhone application, I wanted to share as many different Will Rogers photos as possible from as wide a variety of times and situations – movies, cowboy, vaudeville, with famous people, and family scenes.
Will Rogers is a man worth remembering, and quoting. His wit, humor and insight into life will amaze and astonish you. His life will inspire you. Watch for new blog posts from my Will Rogers quotes collection.
I hope you have enjoyed this quote from Will Rogers and the accompanying image taken from the Will Rogers Daily Quotes iPhone app. Please visit our blog, twitter, or Facebook page regularly and pass these posts on to friends that might enjoy a bit of wisdom from Will Rogers.