Gentle Reader,
I have a special treat for you today. Below is an article from the Will Rogers Memorial Museum website about Will Rogers and his passion for Christmas.
Here is the original link for the article: Will Rogers Christmas. Enjoy!
---
Will Never Outgrew Passion for Christmas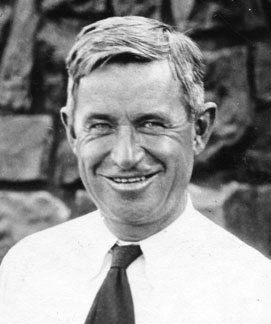 CLAREMORE — Will Rogers never outgrew the child's passion for the Christmas holiday. Traveling the world as an actor or cowboy or at home in California with his children, the season took on a special sense, one of joy and sharing with family and friends.
It's been 80 years, but one Christmas remains vivid for Coke Meyer of Bartlesville, Will's great-niece. One of Coke's earliest memories of Christmas was made special by her Uncle Will. She was six and living with her ailing grandmother Maude Rogers Lane in Chelsea.
"I'll never forget he sent electric lights from New York … No one in Chelsea had ever even heard of lights on trees, except candles and then with care," she said.
Her father, Chelsea pharmacist Cap Lane, and Monday, a preacher for a black church and the man "who helped Granny in her dairy," decorated a tree at the end of the lane at the gracious Lane home on Chelsea's east side.
Coke remembers spending two days moving the mechanical hospital bed Will had sent for Mrs. Lane, relocating her to the "tower room" where she could see the tree. The grandchildren helped fill sacks with and an orange and candy to be distributed to those who stood beneath the window and sang Christmas carols. Mrs. Lane died five months later.
While Will never came home for the holiday after she was born, Coke and her cousin Tim Milam remember his generous Christmas checks. Checks were made personally to the older ones. "He could never remember the last name of cousin Lasca, so he just wrote Lasca on a check and sent it to Dad, who would forward it," Coke reminisced.
"We always took our money and bought a new pair of shoes, then pooled the rest for a summer vacation."
Like many men, Will was a last minute shopper. In a book written by his wife, Betty, she tells how he did his own shopping, "usually the day before Christmas." Remembering everyone who worked for or with him, he would come home with "mountains of toys and clothing" and spend Christmas Eve wrapping gifts.
Often on Christmas Day, the family would retreat to a little log cabin on their property, where they could spend the day in seclusion. The children took turns at being Santa. Once when it was Mary's turn, she fixed her pony with Christmas trappings, packed a sack and rode the pony into the house.
Only once after his marriage was Will away from home. He sent gifts home in 1931, then spent a lonely Christmas in Shanghai.
His first Christmas gift to Betty was a "little lace handkerchief" sent the winter after he had taken her to Chelsea to meet his family. He was away from home, but sent her the gift he had carried with him since purchasing it in Africa years before while buying lace and needlework for his sisters.
He had been saving it for a special time. The old Indian lady he bought the lace from gave him the handkerchief and asked if he was married. When he said no, she told him to give it to his wife when he married.
He carried it with him through Africa, through Australia, and then home, always intending to do as the old woman said. That year, just a few years before he and Betty were married in 1908, he decided it was for her.
---
I hope you have enjoyed this article from the Will Rogers Memorial Museum website. Please visit the Systems of Merritt  blog, twitter, or Facebook page regularly and pass these posts on to friends that might enjoy a bit of wisdom from Will Rogers.