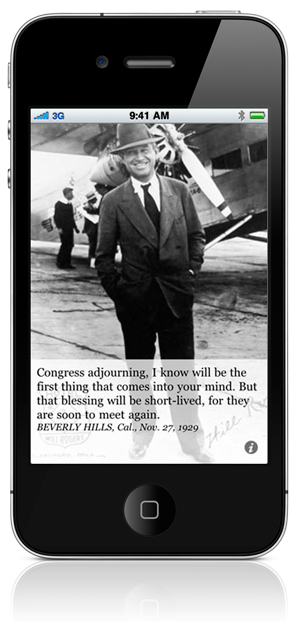 Like Will Rogers says, when Congress adjourns you can count it a blessing. Well, almost. You see, the problem is that during their recess, they all return to their districts where they stir up trouble with fundraising and campaign speeches.

The only way to get rid of them is for them to return to Washington, but that means Congress is back in session, which means watch out for your freedoms, and hold on to your wallet.

What to do? If the current crop doesn't do their job, get rid of them in the next election and hope the next batch does what's right for the country.
---
Image Info: Will Rogers loved to fly. With his busy schedule, it was the fastest way to get places. From open cockpits to the dawn of commercial aviation, he was constantly in the air.
The image was taken directly from pictures at the Will Rogers Memorial Museum archive. I apologize for the quality of the image, but this is exactly what the 1920s photo looked like when I scanned it. In the hundreds of images contained in this iPhone application, I wanted to share as many different Will Rogers photos as possible from as wide a variety of times and situations – movies, cowboy, vaudeville, with famous people, and family scenes.
Will Rogers is a man worth remembering, and quoting. His wit, humor and insight into life will amaze and astonish you. His life will inspire you. Watch for new blog posts from my Will Rogers quotes collection.
I hope you have enjoyed this quote from Will Rogers and the accompanying image taken from the Will Rogers Daily Quotes iPhone app. Please visit our blog, twitter, or Facebook page regularly and pass these posts on to friends that might enjoy a bit of wisdom from Will Rogers.