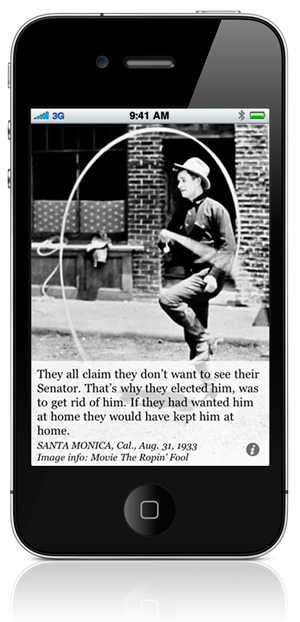 People in Alaska and across the country have been completely baffled by the outcome of the recent Senate election there. I was too, until I came across this Will Rogers quote. You see, the only thing worse than having this particular Senator in Washington, is having the Senator in Alaska.

It all makes sense now. Alaskans were so anxious to get rid of this Senator that massive numbers of voters actually wrote in the name on the ballots. Unfortunately the name was hard to spell so election officials are having to figure out the "intent" of the voter. What do you do with stuff like "moo," "mookow," "cow", "mickey mouse," "that tv commercial person," "goofy," and various other Disney animals and names.

Even the opposition wants to get rid of 'em. That's why they are so serious about legally defining voter "intent." Well, the intent is clear – Alaskans want to get rid of this Senator one way or another.
---
Will Rogers is a man worth remembering, and quoting. His wit, humor and insight into life will amaze and astonish you. His life will inspire you. Watch for new blog posts from my Will Rogers quotes collection.
I hope you have enjoyed this quote from Will Rogers and the accompanying image taken from the Will Rogers Daily Quotes iPhone app. Please visit our blog, twitter, or Facebook page regularly and pass these posts on to friends that might enjoy a bit of wisdom from Will Rogers.