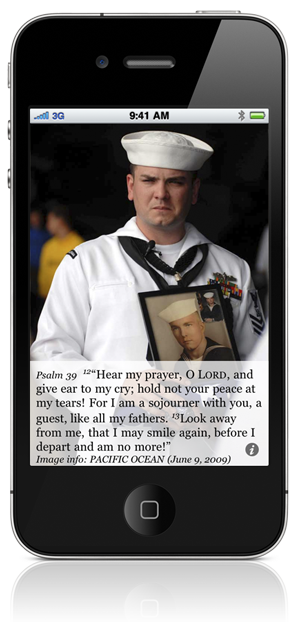 Everyday Act of Valor
Until I started looking through the Navy archives, I didn't realize that burials at sea are routinely done to honor shipmates' final requests. This image is unique in that a son has the opportunity to honor his own father, as he carries on a proud military tradition. You can see both pain and pride in this sailor's face.
You may not be able to see it at the bottom of the picture, but the sailor is holding a flag. It is a symbol of the sacrifice and love of country, presented to the family. Passing this heritage from father to son is an act of valor, made up of simple, every day prayers and actions.
Psalm 39:12 came to mind as I thought about this moment in the sailors life. We are sojourner's moving though life, walking with our God. We pray for peace during the tough times, but have cause to smile as we ponder God's grace and mercy toward us.
Dear Lord, Hear my prayer, and give ear to my cry. Hold not your peace at my tears! I need your mercy and forgiveness every day so that I may smile again. Amen.
Entire Quote & Image Information
Psalm 39:12 "Hear my prayer, O LORD, and give ear to my cry; hold not your peace at my tears! For I am a sojourner with you, a guest, like all my fathers. 13 Look away from me, that I may smile again, before I depart and am no more!"
Image info: PACIFIC OCEAN (June 9, 2009) Boatswain's Mate 1st Class Noel Myers holds a photo of his father, Edmond McKinley Myers Jr., and a flag moments after a burial at sea ceremony aboard the aircraft carrier USS Ronald Reagan (CVN 76). Commanding Officer Capt. K.J. Norton presented the Flag to Myers. Ronald Reagan is underway on a routine deployment to the western Pacific Ocean. (U.S. Navy photo by Mass Communication Specialist Seaman Apprentice Oliver Cole/Released)
iPhone App
I hope you have been blessed by Psalm 39 and the accompanying image taken from the Navy Psalm Daily Quotes ESV iPhone app. Please visit our blog, twitter, or Facebook page regularly and pass these posts on to friends that need an encouraging word.