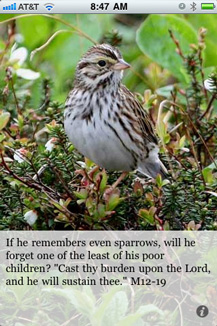 This quote is from Spurgeon's Morning and Evening Devotional. The code M12-19 means that it is from the Morning reading on December 19.
The sparrow image was chosen to match the quote and really helps to emphasize God's care for the least of His created creatures and how he truly cares for each of us.
The Spurgeon Quotes iPhone app has quotes for each day of the year with a matching image. The day's quote is presented when the app is launched, plus you can browse through the other quotes if desired.
---
I hope you have been blessed by this quote and the accompanying image taken from the Spurgeon Daily Quotes iPhone app. Please visit our blog, twitter, or Facebook page regularly and pass these posts on to friends that need an encouraging word.