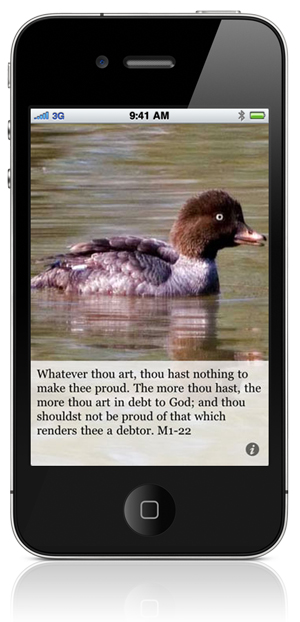 As we grow older we are constantly adding to our resume. Employers, degrees, accomplishments, publications begin to add line after line.

For many of us, such things are a source of pride, but how did we get to where we are? The truth is that each of us is blessed with talents and skills that are gifts from God. Each step of the way God protected, directed and blessed our efforts whether we realize it or not.

As Spurgeon makes his point, "The more thou hast, the more thou art in debt to God," all glory should go to God. If we truly understand this, there is no room for pride. If we ruffle our feathers to look more important, like our aquatic friend in the picture, we take glory due to God for ourselves.

One of the great illustrations of humility in the Bible is found in the story of Daniel. He was established as a young man of great learning and integrity as we enter chapter 2. When Daniel appears before King Nebuchadnezzar to interpret the king's dream, he gives all credit to God. He says: "There is a God in heaven who reveals mysteries…" in verse 28.

Humility doesn't happen all at once for most of us. It's a process of growth and faith. The first step is thanking God for the talents and gifts he has given us.

Dear Lord, I want to thank you for what you have given to me, especially the gift of life through Jesus Christ. May I surrender to you day by day the things that make me proud, that I may serve you in true humility, that you may receive all the glory. Amen.

---
I hope you have been blessed by this quote and the accompanying image taken from the Spurgeon Daily Quotes iPhone app. Please visit our blog, twitter, or Facebook page regularly and pass these posts on to friends that need an encouraging word.