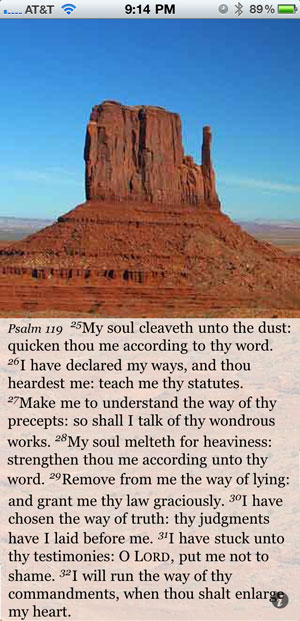 I've been so sick on occasion that I didn't feel like doing anything. I didn't even want to sit up and read because my eyes were sore. Sickness, grief, depression and other afflictions can get us down to where it feels like our soul clings to the dust, and our soul melts from heaviness, as the Psalmist says in Psalm 119:25. We feel like a desert wasteland, as shown in the image. Nothing is growing, nothing is green.
It's amazing what a little medication can do for the body. A friend can come alongside to share the grief, or offer an encouraging word to help lift the heaviness of our heart. Rain in the desert can bring out beautiful blossoms and colors.
The Psalmist also asks for God's help.  "Quicken me" he says, "Make me understand the way of Your precepts" he prays. Once we start thinking about it we can begin to meditate on his wondrous works and offer the Lord praise for his grace and kindness toward us.
The passage continues: "Remove from me the way of lying, and grant me thy law graciously." God's word or law is our help and comfort.
Dear Lord, when our body is sick or our soul is heavy, please help us to turn to your word. Let it revive us, strengthen us and comfort us. Amen.
I hope you have been blessed by Psalm 119 and the accompanying image taken from the Psalm Daily Quotes KJV iPhone app. Please visit our blog, twitter, or Facebook page regularly and pass these posts on to friends that need an encouraging word.