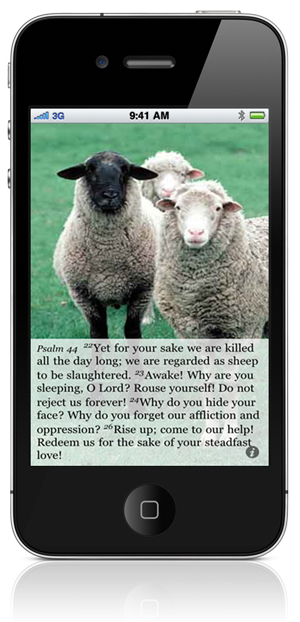 When times get tough, it seems natural to ask "Why, O Lord?" It seems natural to wonder "Where is God when I am suffering?" Why isn't God answering my prayers? Where is God's comfort?

In Psalm 44, the Psalmist seem to express the deep feelings of our hearts with his words. His pleas echo our prayers. His urgency for help speaks to our needs.

I must remember that these words are from Scripture! They are the very words of God. It means that God knows my heart and my situation. We can put this together with the gospel and the life of Jesus in the New Testament. We can understand that Jesus, the Son of God, experienced human life with all its joy and grief, glory and suffering.

God understands our situation and pain, because of the life of his Son, Jesus. Furthermore, from the example of Jesus' life, and the teaching of Scripture, we find that everything that happens has purpose and meaning. Even bad things have purpose on God's plan for our lives. The best example is the cross of Christ. We can also look at the life of Joesph in the Old Testament, and the life and writings of Paul in the New Testament.

The idea of God's purpose and meaning in the things that happen is called the Doctrine of Providence, and it is a sweet and comforting thought, and guiding principle when times are tough. The Puritans referred to difficult times and severe trials as a "frowning Providence." Faith is not shaken when we understand the providence of God, even in the darkest of times.

Dear Lord, You understand the darkest of times of my life. You have purpose and meaning in every event, every trial, every grief. Let the knowledge of your providence be boosted by the understanding of your steadfast love for me. As I read your Word, let these truths encourage my heart. Amen.
---
I hope you have been blessed by Psalm [xxx] and the accompanying image taken from the Psalm Daily Quotes ESV iPhone app. Please visit our blog, twitter, or Facebook page regularly and pass these posts on to friends that need an encouraging word.