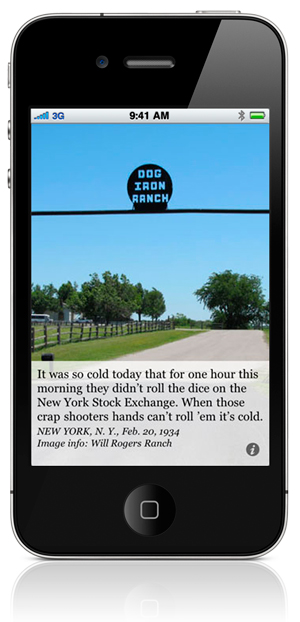 It was 10 degrees F (-12C) this morning and I had to do some work on my car. After a few minutes it was becoming more and more difficult to do even the simplest manipulation with my fingers. Not only that, it was painful.

Can you imagine how difficult it must be for crap shooters when it's that cold. Will Rogers noticed that in February of 1934. Those poor crap shooters at the NYSE had to wait until they could warm up their hands and fingers before they could roll the dice and place their bets.
---
Image Information: This picture is from the entrance to Will Rogers' Dog Iron Ranch in Oologah, OK. It is a working ranch and features Will Roger' Oklahoma home and historical artifacts. It is maintained by the Will Rogers Memorial Museum which is just a few miles away in Claremore, OK.
Will Rogers is a man worth remembering, and quoting. His wit, humor and insight into life will amaze and astonish you. His life will inspire you. Watch for new blog posts from my Will Rogers quotes collection.
I hope you have enjoyed this quote from Will Rogers and the accompanying image taken from the Will Rogers Daily Quotes iPhone app. Please visit our blog, twitter, or Facebook page regularly and pass these posts on to friends that might enjoy a bit of wisdom from Will Rogers.